We've been away for a week. What have we missed?
Whilst we experienced windy conditions and a couple of damp days in the south of Spain, hellish storms were sweeping across the UK,
according to all sources
. So glad we missed it. Hallelujah.
The world bade farewell to Maximilan Schell and (very sadly) Philip Seymour Hoffman. And lots of Syrians, as their shocking civil war continued.
David Cameron said
a veiled "fuck you"
to the Scottish campaign for independence, and US envoy Victoria Nuland made a
less veiled "fuck you" comment
about the EU.
Nutcase popmeister Prince
appeared in a "surprise" live gig
in the relatively tiny environs of Camden's Electric Ballroom. And the Tube staff are on strike. Again.
We missed celebrating the 45th birthday of the faboo Michael Sheen, the
50th
of Billy Mumy (the little boy from
Lost in Space
), the 89th of Patron Saint Elaine Stritch, what would have been the centenary of William Burroughs, and the 105th anniversaries of the birth of heartthrob Ramon Navarro, the Brazilian Bombshell Carmen Miranda and that of
Coronation Street
matriarch Annie Walker aka Doris Speed. The fact that other birthday celebrants during the week, Dora Bryan (91), Patrick McNee (92), Zsa Zsa Gabor (98) and Denis Norden (92) are still alive astounds us.
Oh, yes. And this happened...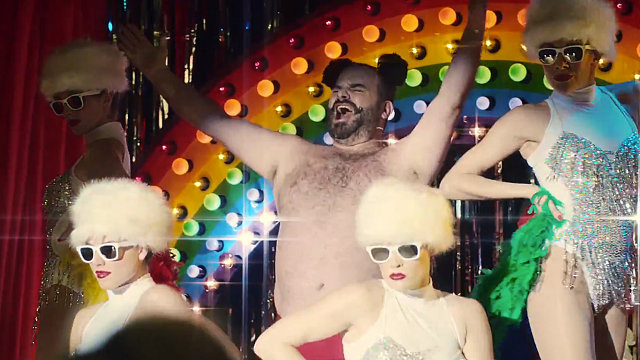 Along with outspoken support for gay rights issues during the launch of Russia's supposed flagship sporting event from Google, AT&T, Skins sportswear and American Apparel, here is
Channel 4
's tribute to the benighted Sochi Olympics:
Be fabulous, be free
We honour our Queens
And follow the rainbow which leads to the east
Gay mountain, gay mountain
Be proud on gay mountain
Gay mountain, gay mountain
Good luck Gays, on gay mountain
Mens and all Mens and Womens and all Womens
Come together tonight, sing with pride
Gay mountain, gay mountain
Be proud on gay mountain
Gay mountain, gay mountain
Good luck gays, on gay mountain!
Enough said, I think.